Watch the first 90 seconds of this video from the Alaska Alliance to hear Alaska Native and regional co-chair, Nicholai Joekay, speak powerfully of this experience of consent-based governance.
Continue watching to hear more Alliance partners speak of their rewarding experience building inclusive structures statewide across six regions and 73 organizations.  
The Alliance is a collaborative effort of multiple and diverse partners across Alaska who recognize the impacts of alcohol misuse on individuals and communities.
With a primary goal to prevent underage alcohol use and eliminate adult misuse in Alaska, the partners chose to use Collective Impact Framework to achieve systems-level change.
We were very excited to support the Alliance with facilitation and coaching to 1) develop the Alliance 2) increase clarity and coherence among Alliance members and stakeholders about the purpose of the Alliance, the strategic direction, and the Common Agenda and 3) Promote cultural responsiveness, diversity, equity, and inclusion.
Year one was about setting the stage, forming a "Common Agenda" and the "Backbone Function".   More deeply, said Eva Gregg, working group member, it was about "building trust amongst us, which allowed us to respect each other, which allowed us to create space to hold these conversations that are really hard and exhausting."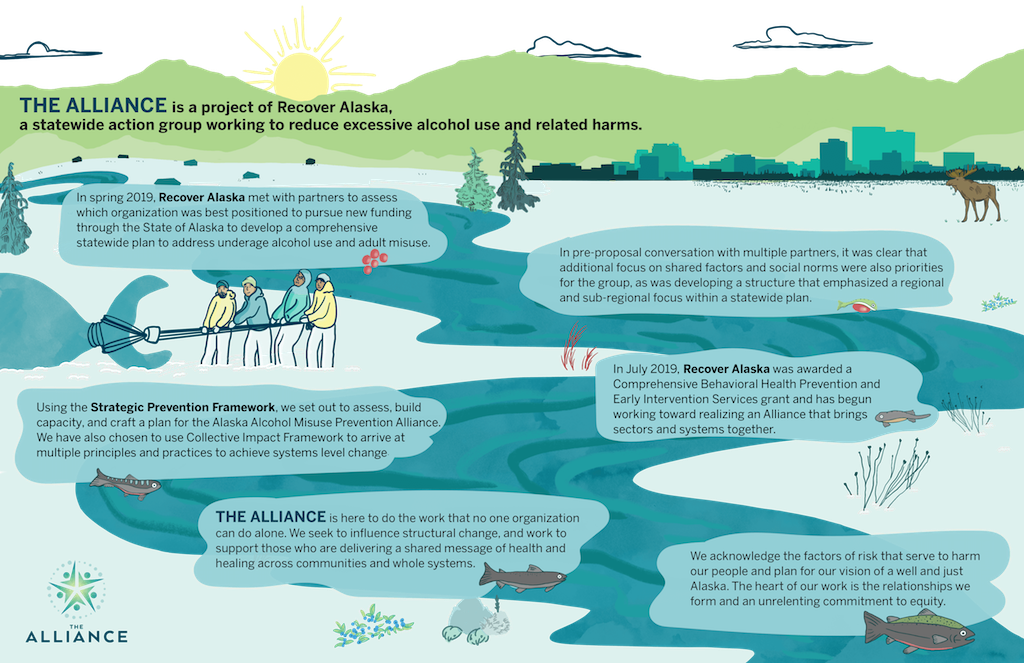 If you'd like to know more about how your organization can cultivate a culture of Consent, contact us.
We'd love to hear about your work.