Services
Providing systems leaders and social innovators with
We Support Networks to Navigate Complex Systems Change
If your initiative feels messy, uncertain, or stuck, especially when it comes to making decisions inclusively, you're likely tackling complex problems.
Perhaps you are unsatisfied with doing things the way they've always been done. Perhaps you're finding it challenging to co-design with the people who are most impacted while bringing to the table the people who hold real power to affect change. Perhaps you suspect that you are stuck in cycles that are perpetuating the status quo.
It may be a small comfort to know that many of us feel like we are in a Great Transition from old systems that are no longer working for us, to new systems that are not quite here. Impactful systems change is an upward spiral of new mindsets and patterns of behavior, not a linear path of incremental improvements.
Core capacities for leading systems change include:
The ability to see the larger system.

Systems leaders help people see the larger system in order to build shared understanding of complex problems.

The ability to foster reflection and more generative conversations.

Systems leaders model and make space for deep, shared reflection that enables the group to actually "hear" a point of view different from their own, and to appreciate emotionally as well as cognitively each other's reality.

The ability to help shift the collective focus from reactive problem solving to co-creating the future.

Systems leaders help the group build inspiring visions and face difficult truths about the present reality, learning how to use the tension between vision and reality to inspire truly new approaches.
Here's how we support initiatives like yours.
Collaborative Governance Co-Design
Be the architects of your collaborative governance systems.
You're leading a systems change or collective impact initiative that was formed because a wide range of people, organizations, agencies and institutions, across multiple sectors, cultures and even regions recognized their work was interconnected. You all believe, or at least hope, that you can accomplish together what no one can do alone.
Together, you're trying to solve complex problems, despite the group's often diverging, and sometimes conflicting perceptions and strategies around issues. Not to mention, navigating power dynamics that can be difficult to name.
With any systems change initiative, the current context plays a huge role in where you begin. The key to bringing out a lasting impact isn't replicating an existing governance structure.
As a network manager, you've realized you can't afford to waste time, money, or resources due to lack of clarity or an unsuitable approach to collaborative governance.
For initiatives that are ready to operationalize their values, we support you to co-design your own governance systems that are fit for purpose, context, goals, and culture.
Governance is not about what we do, it's about HOW we do everything. Designing network governance systems means addressing an interconnected set of design issues.
To help social innovators and systems change agents reshape governance systems in line with core values, Circle Forward developed the Network Governance Design Canvas.
This Design Canvas sets up a framework for providing clarity to how we function in networks.
Through coaching and co-design Circle Forward helps networks understand their options in these naturally non-hierarchical collective impact networks.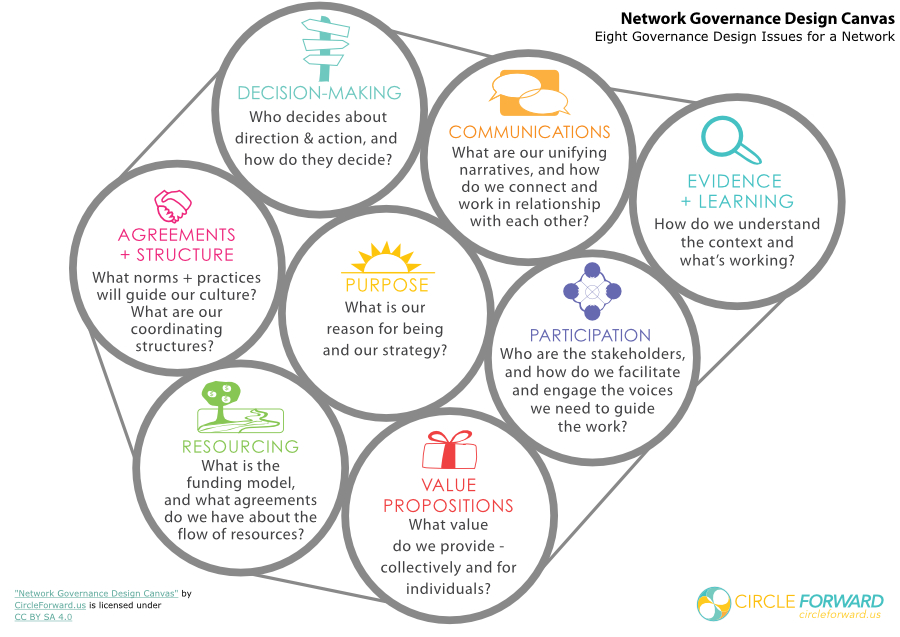 This Offering is Ideal for:
Groups that refer to themselves as a coalition, alliance, collective, cooperative, colab, or network.
Small collective impact backbone teams supporting dozens of organizations that are all connected.
Coalitions who care about Justice, Equity, Diversity, and Inclusion, but are unsure how to operationalize these values.
Anyone who wants to increase their transparency through visualizing and co-designing an adaptive governance structure.
Networks who are looking for support unique to your network, not a pre-packaged approach, step-by-step training, or simple linear process.
Alliances who have seen hierarchical structures fail them, struggled to make horizontal structures effective, and know there has to be a better way to organize and execute for change.
Overview of Collaborative Governance Co-Design
Using the Design Canvas as both a compass and a container we help you
Produce a toolkit for decentralized decision-makers to access and share with transparency.
Codify your tools and processes for emergent strategy, and for decentralized teams to communicate and coordinate as parts of a coherent whole.
Integrate multiple "ways of knowing" into the design of participatory evaluation systems, transforming the understanding of what is possible, what is good strategy, and how to approach the work.
"Make the invisible visible" by mapping and visualizing the structures that are currently in place, so they can be explicit and easily understood. Then we coach you to "see" the possibilities for the next iteration of "just enough structure," that will support equity, shared leadership, and transparency.
Make decisions about communication and engagement platforms that bring decentralized structures to life.
Collaborative Governance Co-Design supports you to operate within your values and…
Provide a deeper level of transparency.
Address power and equity.
Produce governance structures that adapt as your network develops and grows.
Optimize for inclusion and forward momentum.
Experience the benefits of cross sector collaboration.
Professional Facilitation and Strategy
You want to make the most of your time each opportunity your collaborative comes together. Groups can benefit from hiring a skilled facilitator to navigate dialogues around complex issues, especially when everyone's full participation really matters. We use a wide range of inclusive and participatory processes, tools, and techniques to support clarity and alignment within your collaboration.
Some processes we've facilitated in the past include vision, strategy, planning, equity, dialogue and discovery, decision-making, conflict transformation, systems mapping, nonprofit board development, crisis to opportunity, and culture change.
This Offering is Ideal for:
Team size or board size groups (8-20 folks)
Larger staff or community meetings (20-100+ folks)
1 day retreats to multi-day retreats
Short-term or long-term processes over weeks or months
Networks interested in strategic direction, shared aspirations, or a "common agenda"
Overview of Professional Facilitation
We co-design agendas with your team to meet your objectives.
We create an inclusive space for all participants to engage in conversations and decision making.
We're available to support your organization for the length you need, be it one day or a long-term commitment.
Create forward momentum at your next gathering and…
Get everyone onboard for the "what" and the "how."
Sort out competing priorities within everyone's range of tolerance.
Identify and address power dynamics.
Leave with everyone experiencing a sense of ownership of the decisions made together.
Creating a Culture of Consent: Skills, Tools and Practices for Consent Decision-Making
Decision-making is the gateway to collaborative governance, because every activity in governance involves either making, implementing, or evaluating a decision.
In collaborative network governance, where trust is the currency,

consent is foundational.
When the stakes are high and the work feels urgent, the deeply ingrained behaviors around decision-making in which our current systems have trained us can damage trust and participation.
For organizations and networks with equity as a core value, we believe that applying the Consent Principle as the basis for decisions helps networks find the sweet spot between equity, inclusion and forward momentum.
The Consent Principle for decision-making aligns with and amplifies a constellation of values that activate a fuller humanity, like inclusion with respect for autonomy, transparency, equity, dignity, belonging, love, justice, accountability, and trust.
Circle Forward offers opportunities for supporting your network to cultivate a culture of consent:
These Offerings are Ideal for:
those new to consent-based decision making who are looking to learn more about the basics and benefits of the practice. 

folks ready to put consent based decision-making into practice for their networks, organizations and/or working groups. 
Learn more and register for current workshops and coaching for
Cultivating a Culture of Consent
Leadership Coaching for Network Leaders
In your role as a network manager or coordinator, you may feel isolated at times. Not because you don't have like minded folks surrounding you, but because you're in a position that requires a transformational structure that hasn't yet been fully actualized.
You're dealing with complex issues that require solutions that match that complexity. We are continuously testing the tools, practices and structures that work in collaborative networks. We provide coaching and mentorship for network managers implementing consent-based governance in their alliances.
Leadership Coaching is Ideal For:
Individuals who act as the backbone of a network, or as a network manager. 

Anyone working within a network space who's interested in additional guidance. 
What's Included in Leadership Coaching for Network Leaders:
Sincere and careful listening to support you as you grow into "aha!" moments around consent-based governance.

Coaching – in areas of systems leadership, strategy / emergent strategy, decision-making, co-design, culture, conflict, participatory process, equity, capacity building, roles, structure, performance measurement, and more –tailored to your network's priorities and needs. 

Guidance for skills, tools, and practices to overcome stressors, setbacks, and old patterns. 
Get the support and coaching you need to navigate the complex world of network development and…
Feel less alone in your role

Gain the confidence and resilience to overcome obstacles and transform setbacks into opportunities for growth

Clarify your goals, challenges, and aspirations

Deepen your practice in the skills and mindset shifts of systems leadership