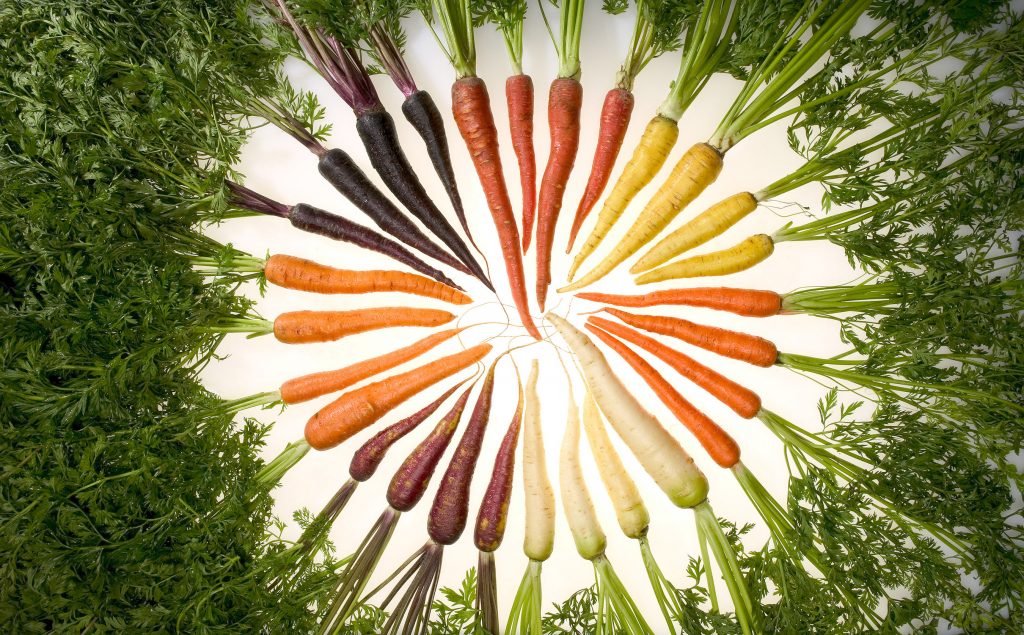 We want to express our gratitude to the people who do the very important work of addressing how our food systems impact our health, communities, lands and waterways.  This is long-term, complex, and often under-appreciated work.
Starting with Equity from the Outset
More and more people working in this space of food systems change are recognizing that a deeper EQUITY must be explicitly addressed from the very outset in any change initiative, if the dreams for our food systems are to be successful. It's a difficult truth that the Chesapeake Foodshed Network (CFN) was willing to tackle.  The long-standing dynamics of poverty and race, that undermine people's access to healthy food, to safe work and home environments, and to viable land for farming, also diminish the resiliency of our whole communities.  
The CFN's Community Ownership, Empowerment and Prosperity Action Team had begun the exploration of equity. When the steering team of the CFN was expanded, they knew that they were launching with equity as a foundational principle.  CFN is a regional food system initiative rooted in the Chesapeake Bay watershed. The Steering Team members are food system leaders and stakeholders who had been carefully selected through an application process that ensured members would bring voices from diverse demographics, geographies, sectors, and communities throughout the Chesapeake region, which includes Delaware, Maryland, New York, Pennsylvania, Virginia, West Virginia, and Washington D.C.  
Cultivat

ing Trust
Before Circle Forward Partners was selected to facilitate their 1.5 day retreat, the new Steering Team had met only once before as a whole group, face-to-face.  While there was much good will and appreciation for each other's work, they simply hadn't had sufficient time together for trust to develop organically.  Also, members recognized that if equity was to be at the center of the work, they needed time together to orient themselves to what that meant from a personal, professional, and network perspective. They were excited but nervous when they brought in Dee Washington, a new Circle Forward Partner, and Tracy Kunkler, to facilitate the first step in their Equity Learning Journey.  
An "Equity Learning Journey"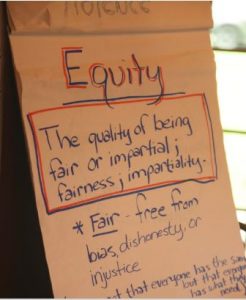 Ultimately, the CFN needed an equity-focused facilitator with food systems knowledge. When they brought in Dee and Tracy, they got both! The Steering Team needed a roadmap for how team members would work together, and next steps for integrating an equity framework into the CFN's organizational framework, decision-making, and project priorities. The retreat had three purposes:
Seed trust
Investigate together how the CFN frames and orients equity in its external and internal work.
Let the equity work fuel the organizational and administrative work of the Steering Team that would follow.
What do you think of some of these questions Dee asked the team?
To what degree is race central to a conversation around equity?

To what degree do you agree with the statement: "If the CFN focuses on having diverse voices around the table, we will ensure that we have equity."

To what degree do you agree with the statement: "Some people need to give up power to create equity."
Dee and Tracy led the group through a number of exercises that first day designed to create a shared understanding and experience of equity, and to uncover the dimensions of diversity, racism and other -isms, violence, dominant culture, institutional power, and, a little something different, the principle of consent.
WHAT'S NEW? Using the Principle of Consent to Operationalize Equity
The Circle Forward team introduced the Principle of Consent as an antidote to oppression. Think about the principle of consent in sexual relationships, or informed consent between doctor and patient.  In each case, when consent is present, people experience more sovereignty, power and choice over their own lives. When large-scale networks operate with consent, they invite a more integrated, distributed, and ecosystem-like approach.  Consent occurs when the system is operating within a range of tolerance that is acceptable to people participating in the many dimensions of that system.
In Circle Forward, consent is the basis for decisions that steer, or govern, how people work together.  We have chosen to focus on governance as a means to equity because governance is essentially about power — how decisions are made, who participates, and how resources are directed. When governance systems are built around the principle of consent, power gets distributed more equitably.  
Networks can "circle forward" to become more inclusive and equitable
Designing good governance is a learning journey, not a recipe, especially if a network or organization holds equity as a central value. Using the principle of consent the network can embed transparency and shared leadership into its operations so they can equitably address conflict; grow more adaptive and resilient; hold each other accountable; and deliver value and results. Among the very positive feedback we heard about how people experienced Circle Forward Partners (CFP)'s facilitation of the retreat, one comment was particularly meaningful:  
"I came in not knowing what shared leadership was going to look like, and now I believe I have a sense of how it can work, although I know it will take time."
We applaud the CFN Steering Team for the focused and intentional work they've embarked on together already and look forward to supporting them as they become the architects of their own equitable system of governance and operations. 
Once your group has received some equity training and gotten clear that your organization needs practices and tools for integrating equity, you may still feel uncertain about how to embed EQUITY into your operations.  Contact us! We'd love to hear about your work.
Here are a few noteworthy resources on racial equity and food systems:
CFN webinar, For Us By Us: Community Ownership & the Food System in D.C. (good historical context)
From our colleagues at Community Food Strategies:
And, from Food Solutions New England:
Equity, transparency and creativity
embedded into your operations
The Collaborative Governance Toolkit and Dashboard