What is The Consent Principle?
A legal definition of consent is, "When a person voluntarily and willfully agrees to undertake an action that another person suggests." Types of consent include implied consent, express consent, informed consent and unanimous consent.
All true collaboration meets this condition of consent among the participants. In collaborative network governance, where trust is the currency, consent is foundational.
In practice, we build on The Consent Principle from sociocracy: a consent-based decision is made when no one impacted by the decision has any significant objections to it; i.e. when no one can identify a risk that the group cannot afford to take.
Those risks typically involve conflicts with the stated purpose or strategies, or the creation of conditions that would make it very difficult for a member to perform his or her role.  (Keep in mind, too, that purpose, strategies, and roles are among the interconnected areas of collaborative and network governance design.)
An objection is supported by reasons that are understood by others. The intent is to understand those reasons and to find solutions that address the objection and bring the group back within its range of tolerance.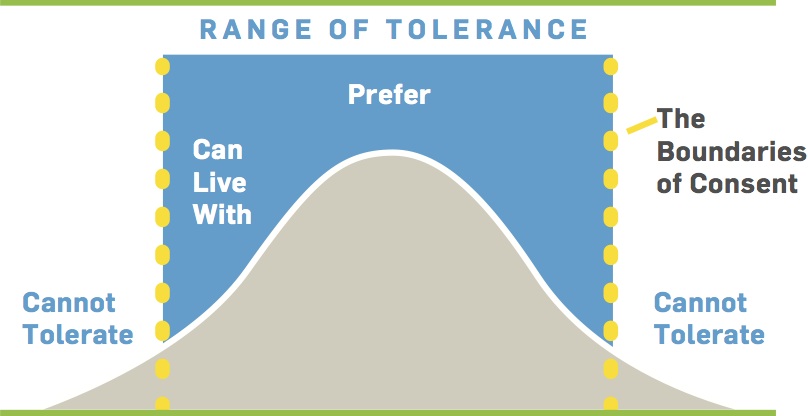 In a Culture of Consent we have an agreement:
I won't move forward when I'm outside my range of tolerance. And I won't force anyone to move forward when they're outside of their range of tolerance.
Individuals with objections are outside of their range of tolerance. In a consent-based culture we see an objection as treasure, rather than an inconvenience, because it reveals blind spots that might lead to unintended consequences.
Seeking solutions to resolve objections allows networks and groups to leverage all the benefits of their diversity. They can plan for, or even avoid, potential pitfalls. Practicing the Consent Principle brings the group back within its range of tolerance — all while sustaining forward momentum.
We developed the Consent Protocol with network partners from the Alaska Alliance that addresses exactly this tension.  This protocol allows groups to delegate authority where people are holding responsibility, investing time, or initiating projects AND include all voices impacted by a decision.