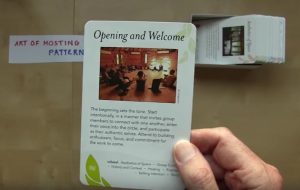 As journalists and civic leaders call for "dialogue," what do they really mean?
They are referring to the process that physicist David Boehm proposed as "conversation in which participants attempt to reach a common understanding, experiencing everyone's point of view fully, equally and nonjudgmentally – leading to the emergence of wisdom from the group interaction.
Over the next few months, I'd like to explore how deepening our understanding of dialogue can enrich the art of facilitating Consent. The intent is not only to make us better facilitators in our workplace meetings, but to plant the seeds for a better society. Sociocracy consultants teach a basic set of meeting practices, the point of which seems to be to shift the culture of meetings from debate to dialogue. What sociocracy consultants don't often do is ground the handful of practices (like rounds or picture forming) in the much more extensive dialogue traditions.
In this month's call, we will start this exploration by playing some games with Group Works, a 91-card deck of exemplary patterns for what makes groups work. It is now being used as a practice tool by over 2,000 professional facilitators worldwide.
To get more familiar with the deck, please watch this short, but entertaining video in advance of this month's call:  https://youtu.be/w_tquqpckNY.
If you have one, bring a story to share about a group you have facilitated or just participated in. It could be "the best of times or worst of times" — your choice.