When:
July 25, 2017 @ 2:00 pm – 3:00 pm
America/New York Timezone
2017-07-25T14:00:00-04:00
2017-07-25T15:00:00-04:00
Social Network Analyses (SNA) are often used to measure the progress of networks. Through the maps, you're able to track how relationships propel the work and which relationships can be fostered further to catalyze energy and create the foundation for more experiments and harvest learning. Networked inherently means that not all individuals or organization know each other, but maps clarify where the gaps are and how to achieve deeper connectivity.
However, this tool can feel allusive and expensive. WATCH THIS WEBINAR to learn more about how you can implement this tool in your work and begin to create your own maps.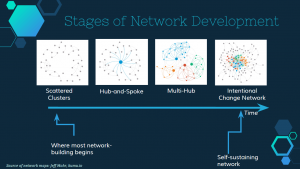 Christine and Tracy will introduce a new approach to network mapping, which builds on the benefits of classic SNA and has recently become available through the new mapping tools Kumu and sumApp. They will discuss how these new tools enable an approach wasn't really possible using the old tools – which is more collaborative, engaging, emergent, more designed to follow the energy, enable greater transparency, and able to track network development over time. They will talk about
the process of developing these new kinds of network maps
how the tools make the difference and how they fit together, and
share some benefits of this new approach.