When:
June 22, 2017 – June 24, 2017
all-day
America/New York Timezone
2017-06-22T00:00:00-04:00
2017-06-25T00:00:00-04:00
Where:
Tufts University
145 Harrison Avenue
Boston, MA
02111

How Do We Midwife the Emergence of Wise Governance Networks?
Tracy joins Tom Atlee of the Co-Intelligence Institute and Steve Waddell of Networking Action for a session on emerging governance structures that that are more adaptive and diverse as they include government but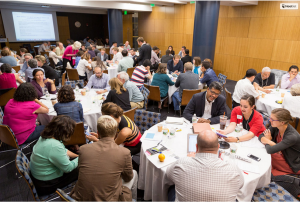 also transcend it.
"Are you sensing new patterns of societal governance in multi-sector networks? Are they more diverse and adaptive
to the scale/pace of change than governments? Might they become powerful governance structures, growing to
include government, but also transcending it? Join us for an inquiry into what is happening and how we can
influence the emergence of these to be democratic, powerful, and wise. We anticipate most of the session will be a
combination of large group and small group dialogue processes."
See the full conference catalogue here.
Follow this conference at #DemFront