When:
October 18, 2018 @ 2:30 pm – December 13, 2018 @ 4:30 pm
America/New York Timezone
2018-10-18T14:30:00-04:00
2018-12-13T16:30:00-05:00
WAITLISTED: send an email to [email protected] to get on the waitlist. There is an alternative online class taught by Jerry Koch-Gonzalez for those who are more on an intermediary level.
This 6-session training is designed for those who have some experience with sociocracy but would like to deepen their skills in sociocracy and practice facilitation. These online classes will be held by John Buck in cooperation with Sociocracy For All.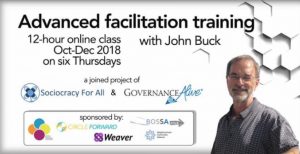 John Buck has extensive leadership experience with government and corporations, including managing more than 200 people on information technology projects. John is the first person, not native to the Netherlands, to be certified in the circle-organization method of governance (dynamic governance), thus, becoming the first certified consultant in dynamic governance in the United States. As head of GovernanceAlive LLC, he has introduced dynamic governance to a wide range of businesses and organizations, assisting them in designing work and making group decisions effectively by "rewiring" their basic power structure. He earned a Master's degree from George Washington University and is coauthor of We the People: Consenting to a Deeper Democracy – A Guide to Sociocratic Principles and Methods and Company-wide Agility with Beyond Budgeting, Open Space, and Sociocracy. John is currently on the boad (mission circle) of Sociocracy For All.
This intensive, experiential class grows deep skills for guiding many kinds of meetings. It draws on Sociocracy (Dynamic Community Governance) and also includes elements of Agile and Open Space as well as presentations by guest speakers on neuro linguistic programing (NLP), emotional intelligence, and new software designed with consent-based decision-making in mind. Participants will get practice in teaching others how to facilitate. The class meets six times over a nine-week period.
For more information, click here.